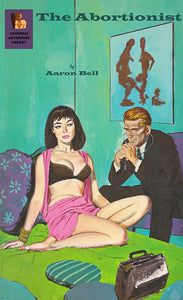 The Abortionist by Aaron Bell (CAVEMAN ADVENTURE LIBRARY 8)
The book the Supreme Court doesn't want you to read!
Dr. Richard Harrison is young and ambitious-and dangerously unsatisfied with his life. A chance and deadly encounter plunges him into the cold and cutthroat world of illicit abortions. But what can he do when the old dissatisfaction returns, being as he is, already on the wrong side of the law?
The CAVEMAN ADVENTURE LIBRARY presents this new edition of this unsettling work-a lurid and sensational view of a world we should never want to return to and shockingly topical again 60 years after its original publication-with its original cover art and new interior illustrations by Misha Mayr.

10% of the list price of this book has been donated to the Repro Legal Defense Fund, to provide bail support and legal fees for women arrested or charged for abortion and those accused of helping them.