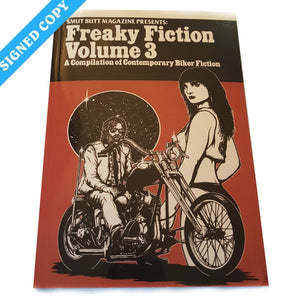 Smut Butt Magazine Presents: Freaky Fiction Vol 3 - Out of Print - Signed (Biker)
Book length collection of biker fiction from Smut Butt Magazine. Features "Bad Moon Rising", and 11 other stories by other authors.
Story description: Willy Freedman is called in to protect a small town along the Pearblossom Highway which is being terrorized by racist werewolf bikers.
Doc's signature will be on the story page unless otherwise requested. Please specify if you want anything special written out!