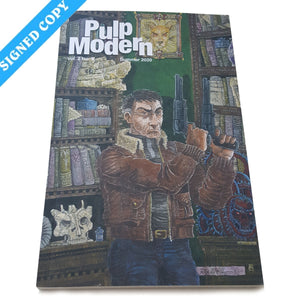 Pulp Modern Vol 2 #5, Summer 2020 - Signed
Independent pulp fiction magazine featuring the story "Ghost Town" (which is illustrated by the the legendary Rick McCollum's cover art), as well as work by Nils Gilbertson and Mandi Jourdan, and many others.  
Story description: Tracking a girl's disappearance in Arizona, Rev. Holyoak comes face to face with an old evil that won't die and has his first encounter with the ancient order dedicated to wiping it out. 
Doc's signature will be on the story page unless otherwise requested. Please specify if you want anything special written out!