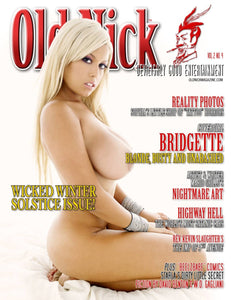 Old Nick V2 #4, 2013 - Wicked Winter Solstice Issue (Bridgette B, Audrey Bitoni, Richard Avery)
Winter issue of the magazine some call "Playboy with Horns", the only men's magazine definitively linked to the Church of Satan! 
Blonde, Busty Wicked Winter Nudes, Evil Tattoo Reality Photos, Night Terror Art, "Beelzbabe" Comics & Pages Full of Sexy, Satanic Hotties. Features a pictorial of Audrey Bitoni, and a centerfold shoot of cover girl Bridgette B by Richard Avery!
Brand new copy!