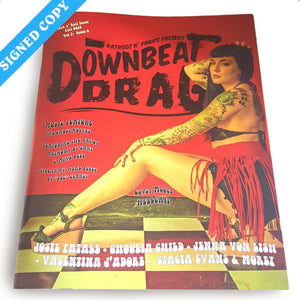 Downbeat Drag Vol 1 #6, Fall 2019 - Limited Print Edition - Signed (Pinups)
Great magazine from Ratrodz N' Pinups, featuring the first part of "Fire in My Head Blues", plus Jenna Von Lish's Shipweck Cove, The Ghost Wolves, Artworx by Sant & Mike Bell of Belldog Studio, and more!
Story description: The wandering Rev. Holyoak confronts an undead blues singer in a tiny Tennessee town.
Doc's signature will be on the story page unless otherwise requested. Please specify if you want anything special written out!