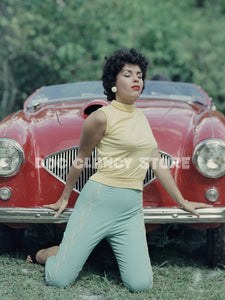 Classic Lines 18x24 Poster-Sized Print (Fran Stacy by Bunny Yeager, Classic Car)
**Watermark is not on the actual image***
Glamourous shot of Fran Stacy posed with a classic automobile, taken by the legendary pinup photographer Bunny Yeager in the early 60s!

This image was reproduced from the original camera color positive through a very high-resolution, professional digital scan, with the permission of the current copyright holder. 
Please note: Because of the nature of analog film, grain is visible when the image is viewed up close. This is not pixelation!
Image ©️ Michael Pfeifer. All rights reserved.