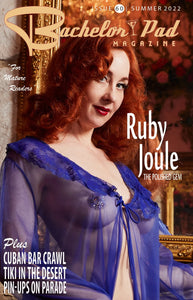 Bachelor Pad #60, Summer 2022 - Signed
Big 60th issue of Bachelor Pad, featuring my out-of-this-world story, "An Ideal Specimen", with paranormal detective Rock Brennan against a host of extraterrestrial beauties! 
Also features pinups of Ruby Joule, Dresden, Greta Grandé, La Purrrla Kitty, and Miss Magnolia! Plus cartoons, great articles, and more!
Doc's signature will be on the story page unless otherwise requested. Please let us know if you want anything special written out!