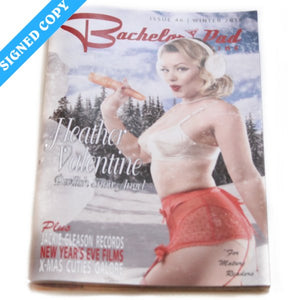 Bachelor Pad #46, Winter 2018 - Limited Print Edition - Signed
Vintage-style pinup magazine featuring "El Sereno Conquers the Martians", illustrated by Rick Forgus. Also features photos of pretty girls like Heather Valentine, Miss Spent Youth, Scarlett Spitfire, Aspen Stone, and more!
Story description: The American President recruits Mexican wrestler El Sereno to stop a diabolic Soviet plan to pervert and destroy Christmas!
Doc's signature will be on the story page unless otherwise requested. Please specify if you want anything special written out!