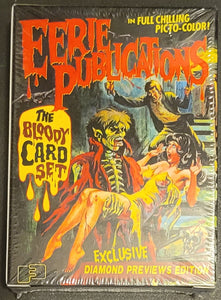 Eerie Publications Trading Card Set - Diamond Previews Exclusive - Shrink-wrapped
Special Limited Edition 60 card set (the standard set was 55 cards).
The most outrageously violent, important, and outright dangerous Eerie Publications covers on front with new commentary by Mike Howlett on back!
Even the standard set had sold out by the time these shipped! Brand new, shrink-wrapped copy! Don't miss out!