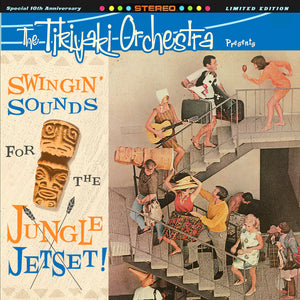 The Tikiyaki Orchestra - Swingin' Sounds For the Jungle Jetset! LP - Limited Jetset Blue and White Vinyl
Brand new, sealed release on blue and white vinyl!
Swanky bachelor pads, in-flight cocktails, deep jungles…The Tikiyaki Orchestra's "Swingin Sounds for the Jungle Jetset!" takes you on a non-stop, pure escapist exotica adventure to uncharted islands and far away lands.

Hi-Tide Recordings & Future Primitive Records' partnership continues with a fresh 10-year anniversary pressing on limited "Jetset!" blue & white vinyl. Order your copy today and get jetsettin'!